Southwest Student Philosophy Conference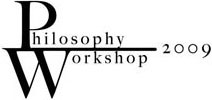 The Third Annual Southwest Student Philosophy Conference
What is the SPPC?
The Southwest Student Philosophy Conference (SSPC) is an undergraduate philosophy conference organized and run primarily by students in the University of Arizona Philosophy Club.
Where and When?
University of Arizona in Tucson, AZ
Saturday, April 4, 2009.
See schedule for details.
Keynote Presentations
Professor David Schmidtz, University of Arizona
Professor Thomas Christiano, University of Arizona
Undergraduate Presentations
There will be four presentations by undergraduates. Submission guidelines are available on our submissions page. See schedule for details.
Registration
There is no official registration or fee required to attend the conference.
Special Thanks
The organizers of SSPC would like to extend special thanks to the University of Arizona Department of Philosophy and The Associated Students of the University of Arizona for their generous support.
Questions
If you have further questions, please contact Jason Matteson at ssphilconf@gmail.com.